Mickey Mantle – legend
BORN TO PLAY BASEBALL
Mickey Charles Mantle was born on October 20, 1931 in Spavinaw, Oklahoma. Mickey's father, Mutt, wanted his son to grow up to be a professional baseball player so he was named after Hall of Fame catcher for the Philadelphia Athletics, Mickey Cochrane.
The family soon moved to Commerce, Oklahoma where Mutt worked in the Lead and Zinc mines. Every day when Mutt would come from from the mines, they would practice baseball next to an old tin barn. Mutt would pitch tennis balls (right handed) to Mickey while he batted lefty. Mickey's grandfather, Charlie, would then pitch left handed to Mickey while he batted righty.
By the age of five, Mickey was already showing promising signs as a baseball player and impressing the neighbors.
Mickey's childhood home and the old tin barn still stand in Commerce, Oklahoma.
HIGH SCHOOL DAYS
Mickey was actually a catcher, like Mickey Cochrane, when he was 10 years old and playing in the Pee Wee League in Douthat.
At the age of 15, Mickey played for the Baxter Springs Whiz Kids in a semi-pro league which was composed of players up to 21 years old.
Mickey attended Commerce High School and excelled in baseball, football and basketball. During a football practice in 1946, Mickey was kicked in the shin. A bone infection, known as osteomyelitis, developed which almost resulted in the amputation of Mickey's leg. A new wonder drug called Penicillin saved the day and Mickey was soon back in action but the medical condition would prove to nag him throughout his career.
DISCOVERED BY YANKEES
Yankee scout, Tom Greenwade, discovered Mickey while he was playing for the Baxter Springs Whiz Kids in 1948. On that particular day, Mickey hit two tape measure home runs (one from each side of the plate) that cleared the fence and rolled into the river which was 400+ from home plate.
Greenwade returned to Commerce on Mickey's graduation day and signed him to a professional contact with the New York Yankees for $140/month plus a $1,150 signing bonus.
INDEPENDENCE YANKS
Mickey played shortstop for a Class D minor league team, the Independence Yankees, in 1949. Harry Craft was his manager. During the season, Mickey went into a hitting slump and became discouraged and called his father to tell him that he wanted to quit baseball. Mutt drove to Independence to meet with Mickey and convinced his son that playing baseball was a far better job than working in the mines. Fortunately, Mickey decided to give it another try and he did very well that season with a .313 batting average.
JOPLIN MINERS
In 1950, Mickey advanced to a Class C minor league team, the Joplin Miners.  Harry Craft moved up with Mickey to manage the team.  Mickey earned $225 per month and won the Western Association batting title with an impressive .383 batting average.
Mickey played shortstop again although he made a lot of errors.  In 137 games, Mickey had 30 doubles, 12 triples, 26 home runs and 136 RBIs.   Mickey's uniform number was 12.
NEW YORK YANKEES
Mickey was invited to the Yankees instructional camp in Phoenix, AZ in the spring of 1951. He impressed reporters, fans, team mates and opponents with his tremendous power, his blazing speed and his powerful throwing arm. Casey Stengel and the Yankees had planned to let Mickey play 1951 on a Class A minor league team but decided to give him a try in the majors after his phenomenal spring. Mickey was assigned uniform #6. Since Babe Ruth had been #3, Lou Gehrig had been #4 and Joe DiMaggio was #5, Mickey was assigned the next number of greatness which proved to be a great mental burden for the young Mick.
Mickey's first game in the Major Leagues was on April 17, 1951 in which he went 1 for 4 at the plate and played right field while Joe DiMaggio played center field. On July 15, Mickey was hitting .260 and had struck out 52 times in 246 at bats which was considered excessive by Yankees skipper Casey Stengel. Stengel sent Mickey down to the Triple-A Kansas City Blues to get his batting confidence back and to learn how to play center field. Once again Mickey became discouraged and called his father saying that he wasn't cut out to play baseball in the big leagues. Once again, Mutt was able to convince his talented son to keep playing. By August 24, Mickey's stats were quite impressive. In 40 games, he had collected 11 homers, 3 triples, 9 doubles, 50 RBIs and a batting average of .364. The Yankees realized that it was time to bring Mickey back to the majors. This time, Mickey was given uniform #7 which was to become his trademark.
During the 1951 World Series vs. the New York Giants, Mickey badly injured his right knee while trying to catch a fly ball off the bat of Willie Mays. The injury would plague Mickey for the rest of his life and resulted in him needing to tightly wrap his leg from the hip to the ankle before every game. Mickey played in great pain for most of his career and endured numerous other injuries. Mickey impressed his team-mates and his opponents by his ability to play despite the pain and play at a level far above that of most other players. Despite his leg injury, Mickey was clocked at 3.1 seconds from home plate to first base which is a record that still stands today.
On April 17, 1953, the term "tape measure home run" was coined due to a blast by Mickey at Griffith Stadium which ravelled a record 565 feet. During his eighteen year career, Mickey hit many other tape measure homers and became famous for his mammoth blasts. His 565′ blast still stands today as the longest measured home run in the history of baseball.
1956 – TRIPLE CROWN YEAR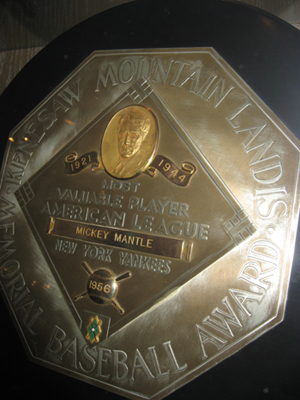 Mickey's greatest year was in 1956 when he won the Triple Crown, Male Athlete of the Year award, the American League MVP award by a unanimous vote and the Player of the Year award.
That year he led the major leagues with a .353 batting average, 52 home runs and 130 RBIs.
Mickey was also a hero in the 1956 World Series game in which Don Larsen pitched his historic perfect game. Mickey homered in that game and also made a spectacular catch to help preserve Larsen's great game.
Mickey also won the MVP in 1957 and 1962 as well as a Gold Glove in 1962.
HALL OF FAME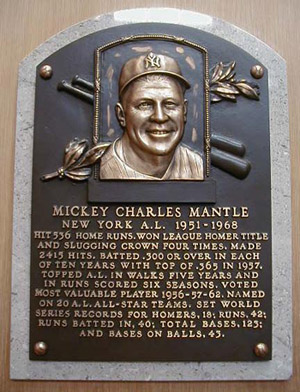 Mickey played in 12 World Series during his 18 year career with the Yankees and he led them to seven World Championships. Mickey still holds the record for most World Series home runs with 18 as well as several other World Series records.
He was inducted into the National Baseball Hall of Fame in 1974 along with his team mate and best friend Whitey Ford.
Mickey lived in Dallas, TX with his wife Merlyn and sons Mickey Jr, David, Danny and Billy. He died on August 13, 1995 due to liver cancer at the age of 64. Today, he is still considered as the greatest switch hitter of all time.