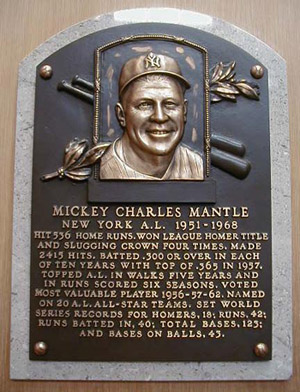 On January 16, 1974, Mickey Mantle became just the seventh player to be inducted into the Baseball Hall of Fame in their first year of eligibility. Mickey's buddy, Whitey Ford, also was elected making this the first time in history that two players from the same team were elected in the same year.
Mantle was somewhat surprised that the sportswriters voted him into the Hall: "A lot of them thought I was arrogant. It wasn't that at all. I was scared. I was afraid to say anything. They thought it was aloofness. It wasn't. It was just plain scaredness."
Sportswriter Jim Murray wrote, "Mantle's career could have been traced in X-rays. He had more cartilage and bone taken out of him that most people have. He was built like something that should have horns. He had to be careful on hunts. Even the moose thought he was one of them."
At 10:00am, August 12, on the porch of the National Baseball Library, six people were inducted into the Baseball Hall of Fame in Cooperstown, NY which included Mickey Mantle, Whitey Ford, Jim Bottomley, Cool Papa Bell, Jacko Conlan and Sam Thompson.