Steve Ray Vaughan ("Lenny") Startocaster Guitar
Limited edition guitar available from Fender® Dec. 12th
The Mickey Mantle Connection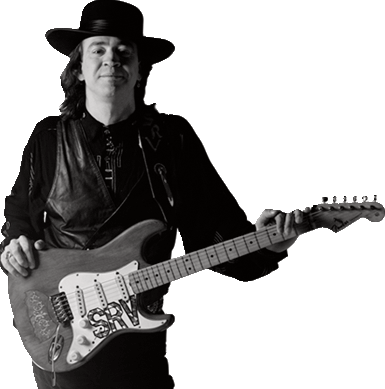 Lenora "Lenny" Vaughan, Stevie Ray Vaughan's wife, gave this guitar to her husband on his 26th birthday (Oct 3, 1980). It is a 1965 maple-neck Fender Stratocaster with a rosewood fingerboard and the original pickups that, from the look of it, had obviously been refinished none too expertly at some point, and now it had a dark natural finish bearing an elaborately arty inlay behind the bridge. Stevie had previously seen it in an Austin, TX pawnshop, fell in love with it, but didn't have the $350 to purchase it.
Vaughan was invited to play the national anthem at the Houston Astros season opener, against the Los Angeles Dodgers at the Houston Astrodome on Wednesday, April 10, 1985. The Vaughans were hastily flown to Houston, where Stevie confessed to his wife that he didn't know how to play "The Star Spangled Banner". She hummed it to him in the limo on the way to the game.
Watching her husband play the national anthem there to a packed house in the cavernous Astrodome, Lenora turned to the guy standing next to her and said, "You know, he didn't know how that went – I had to hum it to him on the way here."
The man replied, "Yeah, it's a hard song."
When Lenora asked the man if he know her husband, he nodded and said, "No, this is the first time I've ever heard of him. My name's Mickey Mantle."
Mantle was at the game to throw the first pitch; it was pure chance that Lenora found herself standing next to one of the greatest baseball players in history. When Stevie joined her minutes later, she introduced the two men.
"I don't know how to play that song," Vaughan confided to Mantle, to which the Yankees great replied reassuringly, "Nobody can play that song."
Lenora then sheepishly asked for Mantle's autograph, upon which Mantle asked where here baseball bat was. "Oh… oh… am I supposed to have a bat?" she stammered. Mantle explained that most autograph seekers bring a bat.
Lenora remembers that "I was looking around for a piece of paper of something, and Stevie said, 'Well I've got this bat right here – her name's Lenny.' And he took it out and said, "Why don't you sign this?' And Mickey said, 'It'd be my pleasure.'"
The Guitar
Exact reproduction of Stevie Ray Vaughan's "Lenny", the 1965 maple-neck Stratocaster® with a rosewood fingerboard and the original pickups that had been refinished in a dark natural finish bearing an elaborately arty inlay behind the bridge.
Fender®, Stratocaster® and the distinctive headstock and body designs commonly found on the Stratocaster® guitar are trademarks of Fender Musical Instruments Corporation.
All rights reserved. © 2007 FMIC.