by Mark Skousen
Many consider Mickey Mantle the greatest baseball player ever, next to Babe Ruth, and he is certainly the greatest switch-hitter in baseball history. Mantle-related items like signed baseballs and bats command the highest prices of any ball player, past or present, with the exception of Ruth. He had a magnetic personality that fans couldn't get enough of.
He played his entire storied 18-year major-league career for the New York Yankees, wearing the famous number 7 (now retired). He was named Most Valuable Player three times, and some experts think he had nine straight MVP years. He won the coveted Triple Crown in 1956 (leading the league in homers, runs batted in, and batting average).
And as the World Series is about to begin, you should know that Mantle holds the record for most World Series home runs (18), RBIs (40), runs (42), walks (43), extra-base hits (26) and total bases (123). It is doubtful that anyone will surpass him in these categories.
He was the consummate team player, and the Yankees won seven World Series rings with him batting clean-up. Not surprisingly, his name includes the words "key man": MicKEY MANtle.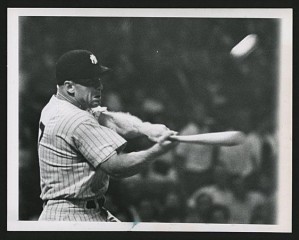 I saw Mickey play only once in the late 1950s as a youngster, but I will never forget the mammoth home-runs and the power of his swing. Nobody swung the bat with such grit as Mickey Mantle.
Now comes a new "tell all" biography, "The Last Boy: Mickey Mantle and the End of America's Childhood" by veteran sports writer Jane Leavy, author of a biography of Sandy Koufax, the great Dodger pitcher.
There's an old saying, "A sculptor never leaves behind all his shavings." If Jane Leavy really loved Mickey Mantle, as she claims, she would have done the same in writing her biography of the boy wonder, and left out the lurid details about Mantle's "bad boy" image. Instead, she has become the Kitty Kelly of sports writing, and made us all into peeping toms. I must admit that I could not finish reading her book, which is full of obsessive personal details of a famous man. I couldn't get past all the gutter language and crass stories.
Sports Illustrated had to censor her excerpt in SI. Thank goodness there's still some dignity left in the sports profession. There was a time years ago when sports writers ignored the peccadillos of their heroes, just as political writers kept silent about their favorite politicians. But that is a by-gone era. The Age of Innocence is long gone.
I don't really understand the purpose of the public vetting of a great player's foibles other than pure titillation, which I find to be a lazy endeavor without value.
The "tell all" biographers have done it to the Babe, Joe DiMaggio, George Steinbrenner, and now Mantle.
Years ago, I had the opportunity of meeting my childhood hero at a ball signing, but having heard of his "bad boy" image, I decided against it. A collector went for me, and got an autographed baseball, "To Dr. S, Mickey Mantle," which I will always cherish. Mantle was a man, not a boy, in my book, and that's how I would like to remember him.
I don't want to remember him as a womanizer and teller of dirty jokes, but as the man who would go out of his way to help a team mate or a friend.
I don't want to remember Mickey Mantle as a drunk who came to the plate and hit a home run. I want to remember him as a great hitter who came limping to the plate in pain and hit a home run, and as he crossed the plate, saw blood ooze from his leg.
That's my kind of hero.
Mark Skousen is a professional economist, university professor, and author of over 25 books.
He is the editor of Forecasts & Strategies, and producer of FreedomFest (freedomfest.com).
The Daily Caller Article.
He is a lifetime Yankee fan.